MARKER 3
i love the idea of re-purposing. i do it all day long. old jeans into koozies. old signs in headboards. lightbulbs into weird art. science jars into terrariums. my favorite to re-create is ikea. we all buy it. we all see about 60% of craigslist furniture is from our sweedish peeps. its readily available, easy to get and won't cost much (kinda like an atlantic city callgirl…oops. did i say that?) it comes in a ridiculous amount of colors as well. our first challenge. take a lack table. ikea's $7.99- coffee table classic that i have seen for atleast a decade, and rework it with collaging and glue.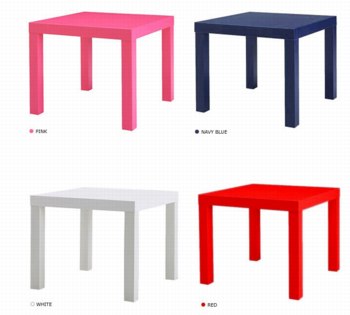 we got modge podge all over ourselves and our credit cards…dont ask. we glue gunned. we even used thumbtacks as studs. we used dragon art, comic books, vintage papers and magazines galore.for our first run at this, i was beyond impressed. and my nice buddies who joined me better invite me to their gamecom 2010 night for D&D (dungeons & dragons) activities on the dragonslayer table they made!
i wanted to go for a heavy metal theme for mine. literally, it's about 25 pound now. so i glued about 6 sawblades to it. i took and old organizer box, also from ikea and tore off the metal corners with some pliers, glued them to the corners of my table top for more of a metal theme.
for the legs, i then used a hammer and a nail to score a MILLION little holes, where i next inserted thumbtacks to look like studs. i am almost done but my wrists gave out and i was too excited not to show it.tomorrow i will report on the finished project. as well, the fine people at chronicle books game some wicked book of motley crue photography, which of course will live on my table forever. excuse my sad camera phone photo. i tried to soften it so the crappy quality became mystery & intrigue. sexy time lighting. maybe i will makeout with table. on second thought, that would be very VERY dangerous.
take pimp my ikea. we will add many more, all new themes, more fun ideas & affordable products that we even haul over to ikea and get for you! next ideas up: curtains. lampshades. office organizers. showercurtains, bathmats & slippers.
xoxo
-kelly